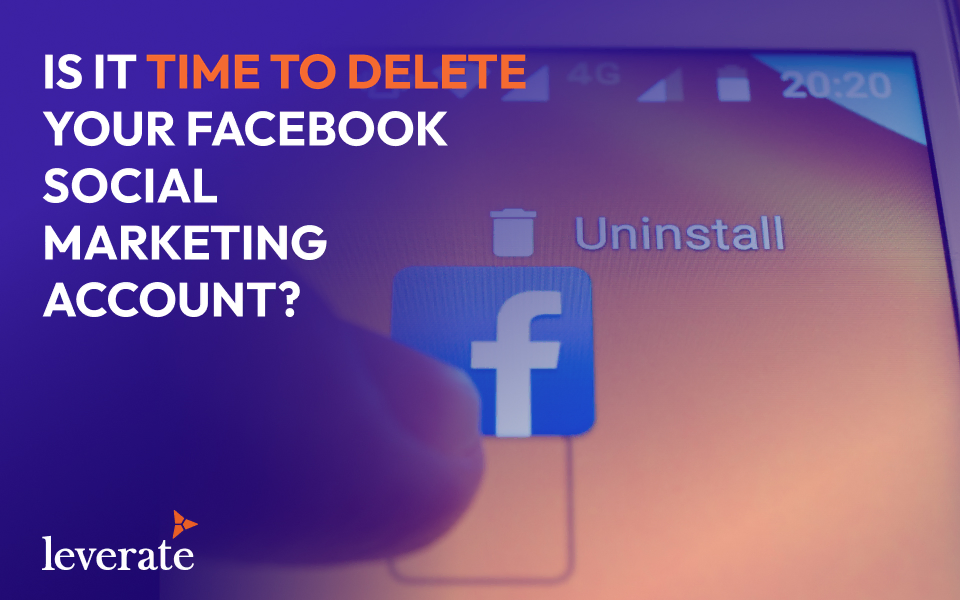 You may have been thinking about whether to click on that "Deactivate Account" button on your Facebook page, what with the recent controversies surrounding the social media giant. From privacy issues to data misuse, Facebook is seeing big brands and personalities deleting their accounts. But is this the right move for your business?
Facebook Faces Big Controversies
Facebook has proven to be an effective platform for content marketing. Many have ventured to say that if a brand is not on Facebook, it doesn't exist. But with the issues putting the social media brand under heavy scrutiny, its value is being questioned by brands and companies all over the world.
The most recent affair has to deal with misuse of data, with a whistle blower revealing the leak of 87 million users' information to the now infamous Cambridge Analytica. Previous to this it was revealed that Russia was meddling in the 2016 U.S. presidential election, when Facebook admitted to deleting fake accounts created to influence results.
The string of controversies prompted Mark Zuckerberg to appear before a Senate committee. While the government and Zuckerberg mull over the framework for policing the platform, you've got your own thinking to do.
The Pros
There are 70 million businesses on Facebook that use the platform to access consumers and promote and advertise products and services. Marketing on this platform is signing up for free access to millions in your target market – Facebook has over 2 billion monthly users, which you could tap as potential customers.
This kind of connectivity paves the way for enormous business opportunities. Facebook also gives you three marketing programs: Pages, Groups, and Ads. A Page is where you have your business profile set up without restrictions on the number of users that "like" your page. Groups, however, have users discussing your brand in a user wall format. Ads, in turn, help you reach your target audience based on demographics, but it comes with a price tag.
The social network also gives you the opportunity to create a business-to-customer relationship. You get a two-way discussion with your target market, enabling better, deeper engagement.
The Cons
Some of the high-profile exits from the platform were by Tesla's Elon Musk, Apple's Steve Wozniak, WhatsApp founder Brian Acton, and Playboy. The social network's data collection practices are troubling, but by and large, most of these brands deleted their accounts for personal reasons.
Other businesses have deactivated their accounts in the past citing different reasons, among them: The Facebook page takes away traffic from the parent website, the platform requires time and effort to manage, fake accounts could damage the brand, users carelessly leave negative posts or comments about the business, and finally, recent changes in Facebook's algorithm affect the business' marketing plan.
A Final Look
What is happening to Facebook now will affect your business later on, so it pays to give it a long, hard look before you jump ship or decide to stick it out with the social network. Here are some steps you might want to take first:
Evaluate the social media's value to your business goals.
Determine the results that you are getting from your presence.
Know whether your audience is still on the platform or if they've moved to others.
Facebook is a powerful tool for business, there is no doubt about that. It has made marketing and advertising affordable for small players in any industry. If Facebook doesn't make sense for your brand anymore, then perhaps it's time to explore other platforms. But if it's still getting you traffic, conversions, and ROI, then stay, but adjust your tactics and get professional guidance, so your brand isn't swallowed up by recent events the social media platform is facing.