"No man is an island", goes the saying, and this is especially true for business people in our hyperlinked and hyper-connected age. Businessmen today cannot rely solely on their own devices to get their enterprise ahead. An entrepreneur these days is much more like an octopus, and one that needs to have far more tentacles than ever before, and the ability to stretch them farther and wider.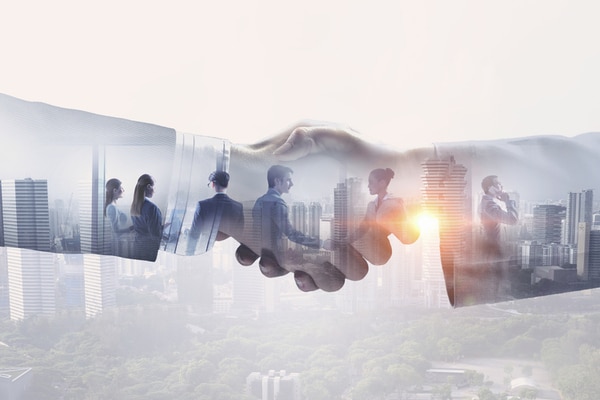 "Executives today need to have multiple arms operating simultaneously in different environments – whether it's banking, marketing, liquidity, sales, payment solutions, and more", says Maoz Tenenbaum, VP of Sales at
Leverate
, a leading company in the field of complete brokerage solutions. "That's why our clients are far more interconnected these days. Most of our clients know people from a wide range of fields". In this intricate web of connections, new money-making opportunities have emerged in the financial world. One option which is gaining popularity in the Forex and Crypto spheres, is the formation of a mutually beneficial partnership. Many different businesses offer various partnership options for anyone with contacts in the industry, whether as Introducing Brokers, affiliates or white labels. A prominent advantage of this collaboration is that it opens the door for people who are not directly involved in the trading or investments business to gain their first major footing in this industry. It can be lawyers, asset managers, accountants, or whoever comes in contact with financial entities or with business-people from the financial sector. For people with a wide network of acquaintances, forming a partnership is a simple match-making process. "In Leverate we identified the demand from non-brokers to set their foot in the lucrative Forex business. It can be people from the gaming industry, e-commerce, finance management, legal profession or financial journalism. Many people who have associates from the Forex and Crypto worlds want to take part in the industry, but don't know where to start. For this reason, we created our LXClub program, which offers clients various partnership plans that can help them make the most out of their contacts network, while making a steady passive income". The first, and most readily available option, is referral partnership. Anyone who knows people that are exposed to the world of Forex can make nice profits by simply making the connections. "Leverate's LXClub offers multiple revenue options for referring partners, both percentage-based and fixed income. All they need to do is direct potential clients to our technological solutions – whether they are interested in liquidity, trading platforms, compliance service, or any other of Leverate's offerings", says Maoz.
SECRETS FOR A HAPPY PARTNERSHIP
But what are the key elements that create a working partnership? In planning a partnering strategy, key things to consider are the right type of partnership, the level of commitment entailed, and most importantly – the right type of partner. Maoz has some tips that set the thriving collaborations apart from the dysfunctional ones. "In Leverate we believe that the key to a good partnership is trust", says Maoz. "Our partners want to know that their associates or clients are not being treated simply as leads for prey. It is extremely important for their own reputation. For this reason, when we take a referred client under our wing, we make sure that the collaboration is trilateral, and that all parties involved get their added value – the partner and the client". "Another key quality that potential partners are looking for is freedom. Some people are afraid of creating a binding agreement, that might have unwanted ramifications in the future. For this reason, LXClub is a tailor-made partnership agreement, with no predetermined commitment. A partner can sign the contract whenever he has a potential lead, and then withdraw if the lead proves unfruitful, no strings attached. Signing a contract doesn't mean the partner is obligated for the match to work. There's also no commitment for number of leads, and no demand for exclusivity – our partners can have other active partnerships at the same time". Another key principle to remember is that a good partnership is more than just an easy way to make money – it should also complement the mediator in other ways. For example, for a lawyer or money manager that serves forex clients, adding a strong tech provider to the mix helps grow his clients' business, adding more work for himself as a result. It is always important to check how your intended partner incentivize the partnership and creates added value.
OPENING MORE DOORS 
Other than simple referrals, various forms of fruitful partnership are available in the Forex market. These include Introducing Broker agreements for the retail trading market, and affiliate marketing options aimed at traffic generation. In these cases, as well, additional value is the keyword that potential partners are looking for, whether its dedicated IB management tools for brokers, or higher commissions for traffic generators. In Leverate's case the secret advantage is the scope of its business network. [more_in] "Leverate offers numerous options for cooperation, not only for B2B oriented partners", says Maoz. "We have opened the gates for people from many different fields to gain long-term revenues from our expanding Forex universe. We have a growing web of clients, whether standard or white-label, that are interested in many forms of lead acquisition, conversion and retention, both in Forex and Crypto. LXClub accommodates partnership solutions for Introducing Brokers as well as affiliate marketing options, to benefit our entire business ecosystem".