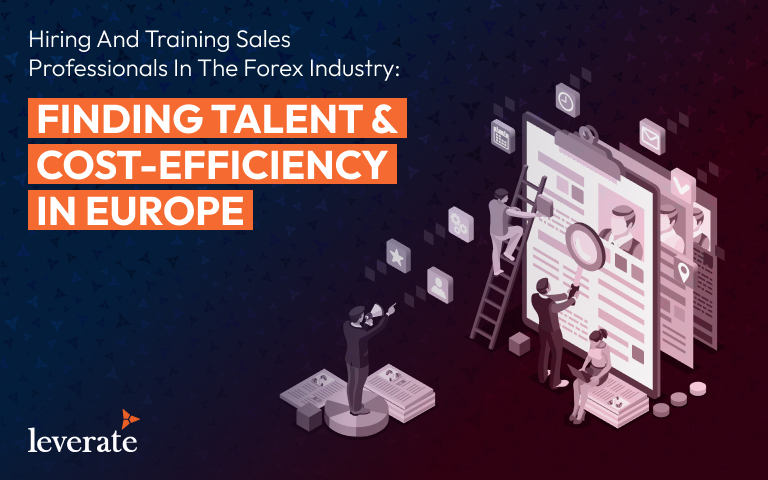 Within the competitive market of trading forex, acquiring and training the best sales personnel is essential for brokerage companies to attain the growth and prosperity they desire. This article will discuss the key elements of the recruitment and training process for sales jobs in the forex market, with an emphasis on efficiency in Europe.
Hiring Sales Professionals in the Forex Industry
1. Define Job Roles and Responsibilities
Prior to hiring sales representatives, It is essential to establish the roles, responsibilities, and expectations for the positions you're planning to fill. The sales roles in the field of forex can differ, such as sales representatives, account managers as well and Business Development executives. Each position may require specific qualifications and responsibilities, thus defining these requirements is a crucial first step in the process of hiring.
2. Identify Key Qualities and Skills
Sales representatives in the forex business must have an exclusive set of characteristics and abilities. They should have a thorough understanding of the financial markets, exceptional communication skills, negotiation abilities as well and an ability to achieve results. In addition, a working knowledge of trading platforms and an understanding of trading strategies for forex could be beneficial.
3. Recruitment and Selection
To locate the most suitable candidates, use a variety of ways to recruit, including websites for job postings, specific to the industry and various social networking platforms. Connecting with people in the forex industry and attending events in the industry can aid in identifying possible talent. When evaluating applications and conducting interviews, you should focus on assessing both technical skills and soft skills in addition to a candidate's capacity to adapt to a rapidly changing and fast-paced work environment.
4. Background Checks and Compliance
Due to the delicate nature of the forex market and the necessity for compliance with regulatory requirements Conduct thorough background checks of potential employees. Check their credentials, professional licenses as well and any prior experience in the field of financial services. Check that they have the required qualifications in your area.
Training Sales Professionals in the Forex Industry
1. Industry-Specific Training
The forex market is highly complex and a thorough knowledge regarding the markets is crucial to sales specialists. Give a comprehensive education on the mechanics of the forex market including trading strategies, as well as risk management. The training should cover subjects like technical analysis, the fundamentals of analysis as well as the psychology of trading.
2. Trading Platform Proficiency
A good understanding of trading platforms is essential for sales professionals to be able to help customers effectively. Give instruction on the platforms that your brokerage utilizes and ensure that your employees are able to assist clients with executing trades, managing accounts, and using the platform tools.
3. Compliance and Regulatory Training
Make sure your sales staff has wide knowledge in regard to regulatory requirements for the forex industry as well as compliance standards. Make sure they are trained on Anti-money Laundering (AML) procedures as well as know-your-customer (KYC) rules and other applicable regulations. Training on compliance is essential to safeguard your clients and your company from issues with regulatory compliance.
4. Sales and Customer Service Training
Sales professionals must be trained in effective sales methods as well as customer relationship management and negotiation techniques. Include role-playing scenarios and exercises to assist them in handling common customer inquiries and objections efficiently.
5. Ongoing Professional Development
The Forex industry is always changing. Make sure that you encourage ongoing professional development for your sales team by offering access to the latest industry publications such as webinars, conferences, and seminars. Think about offering incentives or certificates in exchange for completion of relevant courses, or reaching sales goals.
Cost-Efficiency in Hiring Sales Professionals in Europe
Finding low-cost employees to work with in Europe requires a thoughtful approach that takes into account aspects like employment market conditions as well as differences in economic conditions across nations. Here are a few things to consider:
1. Central and Eastern Europe
Countries of Central as well as Eastern Europe, such as Poland, Hungary, and Romania have a lower cost of living as well as highly competitive labor markets. These areas have many skilled professionals, who can provide effective in selling roles. However, proficiency in the language and cultural alignment might need to be taken into consideration.
2. Remote Work
With the increasing popularity of remote working, you should consider hiring sales representatives from countries in which their cost of living may be less than the main financial hubs. Remote employees are cost-effective because you don't have to invest in offices or other infrastructure.
3. Outsourcing
Outsourcing sales tasks to specialist firms or agencies from countries such as Bulgaria, Serbia, or Ukraine is an affordable alternative. They usually have highly skilled sales teams that can manage different aspects of the selling process.
4. Internship Programs
Think about establishing internship programs that are in conjunction with colleges and universities in countries that have low costs of labor. This will allow you to educate and mentor gifted individuals at a lower cost and with the possibility to employ them as full-time employees in the future.
5. Salary Negotiation and Benefits
If you are hiring in Europe be prepared to negotiate wages in accordance with the local cost of living as well as market prices. Think about offering bonuses based on performance and advantages that can compete in an employment market in the area.
Conclusion
Training and hiring sales personnel in the field of forex is an essential step to the development of a successful brokerage business. Establish job roles and qualifications be sure to hire the right people, and offer comprehensive training to ensure that your staff is equipped to meet the needs of customers and satisfy the requirements of regulatory agencies. Although Europe has a wide workforce, efficiency could be achieved through smart hiring strategies, taking into account the location of your employee's offshore work or internship opportunities. Through investing in talent and cost-effective strategies, foreign exchange brokerage companies can succeed in this highly competitive field.